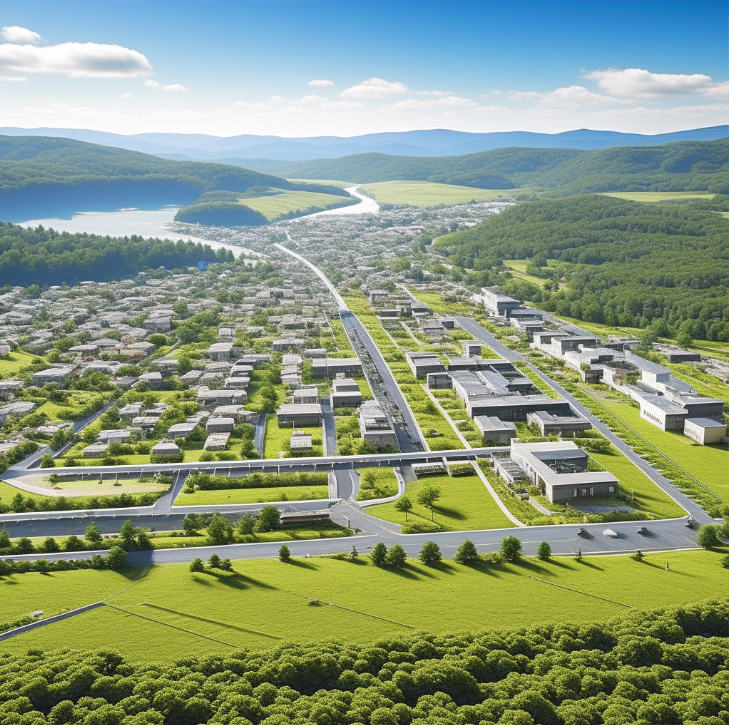 Atlantic Station Developer
Has Mill Site Under Contract
October 17, 2019, by Jill Helton, Tribune and Georgian.
Renowned developer Jim Jacoby of the Jacoby Group is poised to purchase the former paper mill site in St. Marys and hopes to close on the sale by the end of the year.
Jacoby plans to follow through with the Camden County Joint Development Authority's vision for a marine facility, where boats can be docked, serviced and stored, with some minor redesigns. It also includes a town center with restaurant, retail and residential units.
Another major component is an aquaculture farm that will create an eco-friendly industry that not only serves the community by providing jobs but also regional produce and seafood needs.
Jacoby anticipates that the whole project will create about 500 jobs and represent a private investment of about $500 million. There is already a tax allocation district on the site, which he said was a definite enticement.
It isn't the first time a big-name developer has rolled out an impressive slate of plans for that property, but so far none of those have come to fruition. Local government officials seem to believe Jacoby has the reputation and track record to pull it off.
The Atlanta-based developer has a vast collection of projects including Atlantic Station in Atlanta, an abandoned steel mill that he and his team transformed into a multi-billion-dollar mixed use residential and office complex. It is considered a model for taking a brownfield industrial site and not only bringing it back to life, but making it highly profitable as well.
Jacoby said the Atlantic Station property only generated $350,000 a year in tax revenue when he bought it. Today, it puts $70 million per year into government coffers.
"That's a great story about public-private partnerships," he said.
That's exactly what the JDA had in mind while marketing the site during the last several years to marine companies, boat manufacturers and their suppliers. The mill property, also a brownfield site, has remnants of the paper mill operation that occupied that space since the 1940s.
Jacoby thinks the intervening years have helped to lessen the effects of the site's industrial past. He said the air and water around it seem much cleaner now. The JDA also has done soil testing and secured permits on a 50-acre portion of the site.
"Twenty or so years later, I think it is healed," he said.
Jacoby certainly has a track record of turning sites around in the way that many have hoped for the paper mill site. The JDA has long been trying to bring this "stranded asset" back as an economic engine for the area, which has become more dependent on government jobs since the mill's closing.
At this stage of his career, Jacoby could take his projects just about anywhere. He said he settled on this site because he thinks it will aptly fill some vital needs for the community and his need to be on the water.
"I'm all about being by the water," he said.
Jacoby visited Kingsland on Thursday afternoon to attend a JDA board meeting. He said he has been looking at that property since it first became available in 2003. LandMar eventually outbid him that go-around.
But then LandMar's deal fell through when the recession hit toward the end of that decade and the bankruptcy trustee for the property asked Jacoby in 2012 to take another look. At that time, Jacoby said, the local governments were discussing the mill site as a industrial port, which didn't interest him.
After seeing what happened recently in Glynn County when a tanker tipped over in the shipping channel, Jacoby is convinced.
"My feeling is that we don't need that in St. Marys," he said.
He also considered buying White Oak Plantation when it was for sale.
Jacoby is hoping the third time will be the charm for him and this storied industrial property on the North River.
He points to the $500 million construction project at Kings Bay Naval Submarine Base, which the Tribune & Georgian reported in July, as one reason that he sees a bright future in Camden County.
If all goes smoothly, he hopes to break ground sometime next year, with a three to five-year build-out.
A Navy veteran, Jacoby is big on teamwork and credits the team of companies with which he is affiliated for making it possible to get so much accomplished.
He brought some of his team members to the JDA meeting, including Angela Tenbroeck of Aqua Hortus, who explained the aquaculture operation planned for the site.
This will be a site where 31 different types of plants can be grown with a method that uses the natural symbiosis between plants and fish. Tenbroeck said it is considered "beyond organic" and surpasses other farming methods significantly in terms of food safety.
This has earned Tenbroeck a recent award in Florida, Jacoby told JDA members on Thursday. Both she and Jacoby have won numerous professional awards for innovation in their respective fields.
Additional coverage of this story will be published in the next edition of the Tribune & Georgian.
Source: Tribune and Georgian